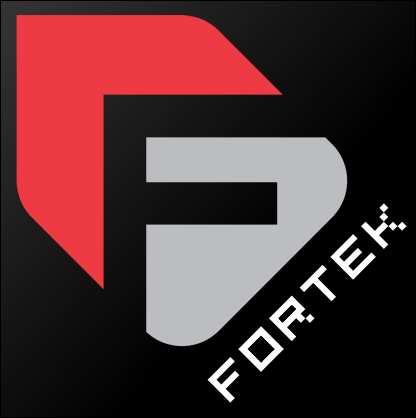 1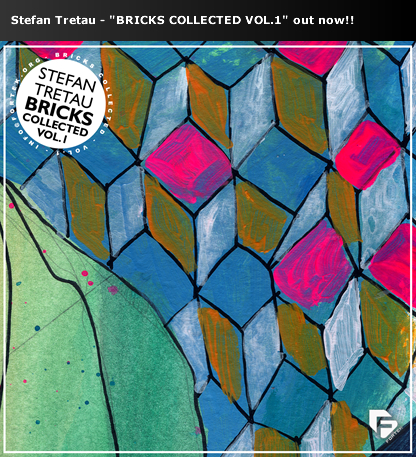 BRICKS COLLECTED VOL1 | FT001CD | Released: 01.June 2009 | Digital
01: Alessandro Crimi - Dubweiser (Stefan Tretau Remix)
02: Internal Sync - Song for Dementia (Stefan Tretau Remix)
03: Stefan Tretau - Autumn Computing
04: Stefan Tretau - Echo Space
05: Luciano Pizzella - My Personal Gallery (Stefan Tretau Remix)
06: Internal Sync - Dif Dif (Stefan Tretau Remix)
07: Stefan Tretau - Himmlische Beton
08: Stefan Tretau - Killi
09: Stefan Tretau - Horn oder Geweih
10: Stefan Tretau - NSKRD
11: Stefan Tretau - Kawaii
12: Plus1 - Diagramm Romanze (Stefan Tretau Remix)
13: Stefan Tretau - Dizzy Steps


On his debut long-player Bricks Collected Volume 1, long time 12" fiend Stefan Tretau settles himself long enough for electronic fans to get a good look. In fact Stefan has long favoured singles, issuing slabs for Fortek & Sounderground among others, that feature some combination of minimal and house. Bricks Collected Vol. 1 is an amazing collage of deep techno music and flouts the conventions of his 12"s, offering some of his best remixes and some of his original works. This first episode of Bricks Collected takes mammoth amounts of dedication and its rewards come mostly in the form of dark, room-shading atmospheres, no matter the tempo.

Stefan Tretau has always seemed a little bit playful -- check his profile www.myspace.com/tretau or listen to the cheeky synth-work on his "Nskrd" track-- but Bricks Collected Vol. 1, apart from its weirdly mesmerizing cover art, plays things fairly close to the vest. The first part of this compilation is the kind of tech-house Stefan Tretau fans have been waiting for, and it seeks weedy, murky terrain. It leans heavily towards modern minimal, unleashing deep bass concussions that leaving chalky, muted imprints. Tretau ups a notch with every track and the second part of the compilation features some of his most energetic tracks to date.

Bricks Collected Vol. 1 is a distended exploration of known and unknown sounds and moods. This album is sure to drive some tech-heads bonkers. Enjoy the whoosh when Stefan Tretau releases the pressure and hope he's got more big surprises up his sleeves.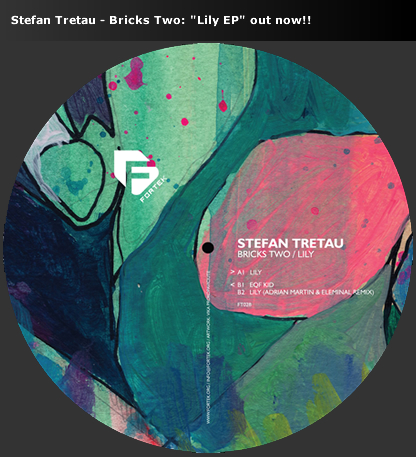 BRICKS TWO: "LILY EP" | FT028 | Released: 01.May 2009 | Vinyl & Digital

A1: Lily (Original Mix)
B1: EqF Kid
B2: Lily (Adrian Martin & Eleminal Remix)
Digital only: Lily (Stefan Mallmann Remix)


It often seems like the tracks that stay fresh the longest are the ones with the least embellishment. Stefan Tretau's spring release on Fortek is one such record. On Bricks Two: Lily, Tretau squeezes a lot of personality out of understated house motifs, assembling a classy and effective handful of tracks in the process.

The opening track, Stefan's own version of Lily, is a funky, uncluttered house tune that makes great use of a dry tonal palette and melodic features. EqF Kid is another big one of Tretau's well-crafted techno stormers that will easily fit any set played by the likes of Hawtin, Villalobos, Luciano, etc.. This track relies on little more than a fat bassline, a heavy snare, and lightly dispensed sounds to stir up a nice bouncing momentum.
The remixes of Lily that are included in this package mark a distinct change in style, ushering great in the ambience and depths of the original. Adrian Martin's remix features tight and concise drums, liberal use of effects and drifting sounds make this track really ornate. Fortek family member Stefan Mallmann really shines on his take on Lily. Mallmann does draw up some nice minimal sleaziness for sure. All in all Bricks Two: Lily is about as unassuming as house gets, and its delicate attention to rhythm guarantees it a long tenure in the collective DJ crate.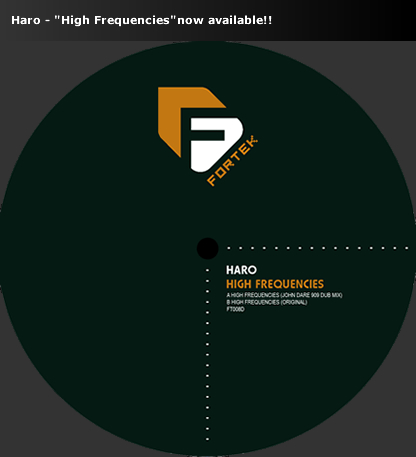 HIGH FREQUENCIES EP | FT008D | Released: 03.April 2009 | Digital

A1: High Frequencies (John Dare 909 Dub Mix)
B1: High Frequencies (Original)


Fortek is known for bringing new talent on the table. Once again we know where to look for dope producers out there. Haro is hailing from Spain and rest assured his production will be played by the big guys soon! On his debut single for Fortek, Haro comes with two takes on High Frequencies: one from his friend John Dare, who recently released his excellent and critically acclaimed Dulce Baile on Fortek, and one from himself. Both versions on this release roll out a steady drum track, throw in a bassline, then decorate with clunky keyboard noodles and motley homespun sounds. High Frequencies works dancing synth tones into a lather, raindrop blips and bulbous notes stumbling like punchdrunk prize-fighters. This is another must have release from your suppliers of contemporary techno: Fortek!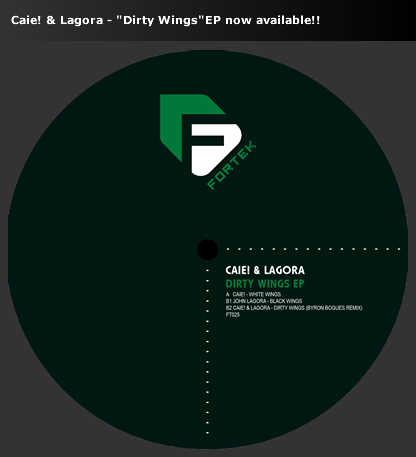 DIRTY WINGS EP | FT025 | Released: 13.March 2009 | Vinyl

A1: Caie! - White Wings
B1: John Lagora - Black Wings
B2: Caie! & Lagora - Dirty Wings (Byron Bogues Remix)
Fortek superstars Caie! & Lagora join forces on this slammin' techno release called Dirty Wings. Caie!'s White Wings is a rough and nasty percussive dancefloor banger with influences of the 90's tribal scene combined with the wicked tricks of today's techno music. Lagora comes with a storming take on Black Wings. Deep basses and fat synth work provide for the perfect party at midnight! Last but not least we bring you Dirty Wings in an amazing remix. Byron Bogues, head honcho of Choke Music and Eruptive, manoeuvres things into deeper territory. His take on Dirty Wings is like taking an analogue bubblebath: Warm and sexy!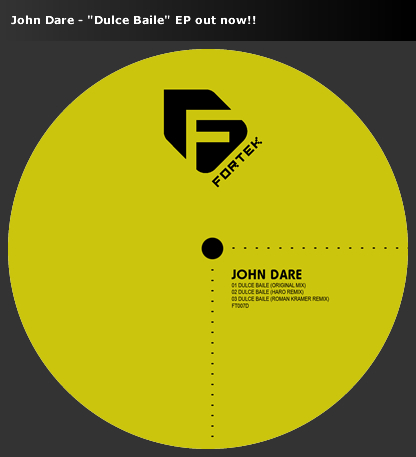 DULCE BAILE EP | FT007D | Released: 26.Feb.2009 | Digital

1: Dulce Baile (Original)
2: Dulce Baile (Haro Remix)
3: Dulce Baile (Roman Kramer Remix)
"We introduce you to the slammin techno sounds of John Dare. Hailing from Barcelona, this young man knows his music for sure. On Dulce Baile he shows how to make a solid and relentless techy floor banger. Heavyt bassline, uplifting beats and killer sounds make this a club stormer not to be missed! Haro comes with a minimalistic remix. With it's freaky sound going all the way through the track, this is hypnotic stuff, peepz! Roman Kramer comes up with ultimate techno remix. Incredibly cool stuff! "Killer package!"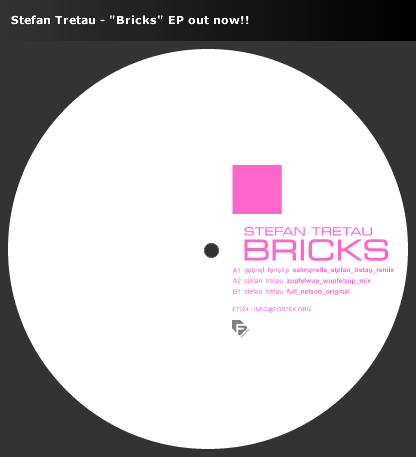 BRICKS EP | FT024 | Released: 03.Nov.2008 | Vinyl 12"
A1: Gabriel Ferreira - Salmonella (Stefan Tretau Remix)
A2: Stefan Tretau - Zupfelwup (Wupfelzup Mix)
B1: Stefan Tretau - Full Nelson
"To proof once again Tretau is on top of his game, he comes with this killer EP preceding his anticipated debut album Bricks to be released on Fortek early 2009. This EP also covers the complete aural spectrum from heavy dancefloor techno to melodious techouse. ''Salmonella'' is a remix Tretau did for Gabriel Ferreira. ''Zupfelwup'' is a highly infectious minimalistic banger that never fails to please the headz. ''Full Nelson'' is a breathtaking, melodious and deep techno clubstormer, a long voyage that slowly builds and builds to great effect. Some top class nu school house and techno tracks! Another winner"
DE:BUG.de Review:
"This is a very casual and taken back approach to a housegroove, that is absolutely outstanding. Powerful and fleet-footed at the same time, with a density of sounds that is beyond all the other minimal tracks - and even a small Formula 1 car has its place in there between many pads and wicked sounds. Music, that was called Fidgethouse in earlier times, when it was still not quite as tricky and jazzy as it was later on. Even if he could do it more calm, this is the prevailing mood on this record, where sounds are muddled that you would never expect to be muddled in one track. Perfect sound for an artistically fractal evening where you finally get to see the best of all Dancefloor worlds at once. Bleed OOOOO" [source]


STILL ONE MINUTE EP | FT006D | Released: 12.Nov.2008 | Digital Release
1: Still one Minute (John Lagora Remix)
2: Still one Minute (Kevin Over Remix)
3: Still One Minute (Original)
4: Sandrina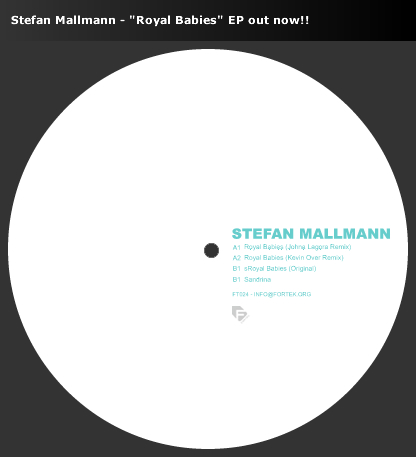 ROYAL BABIES EP | FT023 | Released: Nov.2008 | Vinyl 12"
A1: Royal Babies (John Lagora Remix)
A2: Royal Babies ( Kevin Over Remix)
B1: Royal Babies (Original)
B1: Sandrina
"Stefan Mallmann is responsible for some of the dopest techno and minimal sounds out there. His music has been released by top labels such as NightDrive and Sounderground. His Remix for Stefan Tretau's Killi on our own Fortek got plays by Villalobos and Luciano and his remix for Johan Lagora's So Good is supported by Umek and Laurent Garnier. So, it's a safe bet that we asked mr Mallmann to produce a twelve for us and this this banger EP, is what he came up with. Some highly infectious techno stompers with a minimalistic feel. For fans of Panpot and Minus."


TRÖTMOPED EP | Released: 25.Apr.2008 | Digital Release
1: Trötmoped
2: They Died

QUICK & DIRTY EP | FT020 | Released: Feb.2008 | Vinyl 12"
A1: Quick & Dirty
A2: Benin
B1: Killi (Original)
B2: Killi (Stefan Mallmann Remix)
"Official release of this tech-banger pur sang! Young German producer Stefan always hit the right spot. Quick & Dirty is a dirty track indeed. A fat bassline accompanied by some irresistible electro-ish groove provide the fierce backbone for this mighty dancefloor bomb! Twisted synth sounds and other schizophrenics, supply for the craziness we all love. Benin is another killer track with a minimal pace, a housey rhythm and spooky atmospherics, topped up by killer female vocals. The b sides features two killer versions of Killi."
Review:
"Some rough-edged 4/4 from largely unknown producer Stefan Tretau, who's clearly capable of carving up some memorable, detailed work, as proven across three tracks here. While the title track bleeps and oscillates its way across a busy, effects-heavy six minutes, 'Benin' demonstrates that he can accommodate a bit more room in his mixes when necessary, laying down some careful, bottom-heavy beats around a female vocal and what sounds like some clanking glasses. Maintaining a roomy, spatially diffused approach, 'Killi' sounds full-bodied and interesting without overdoing it with clutter, a blueprint largely stuck to by Stefan Mallman on his remix, whose only major tweak comes from the addition of a central synth riff."


DIF DIF EP | FT019 | Released: Feb.2008 | Vinyl 12"
A1: Dif Dif
A2: Dif Dif (Stefan Tretau Remix)
"Internal Sync are Jackspot and Calapez, a Portuguese duo that made fame within a short period of time. On Fortek their deep techno cut "Dif Dif". A rough bassline supplies for the bounce and the minimal drum programming hits the spot. The duo go crazy with a housey juno-esque synth, a floor banger for sure. On the b-side we have Fortek wonderchild "Mr. Stefan Tretau" on remix duties. He takes Dif Dif into even deeper territories adding a tech-club feel a la Ame and Charles Webster. The mix slowly builds and builds. A wonderful voyage."


HARO - HIGH FREQUENCIES ( Digital )
Releasedate: 03.Apr.09 | including John Dare 909 Dub Mix!!!

STEFAN TRETAU - BRICKS TWO ( Vinyl 12" )
Releasedate: tba | including Stefan Mallmann, Adrian Martin & Eleminal and Max Cavalerra Remixes!!
Copyright © 2009 www.fortek.org | All rights reserved | Use of this website signifies your agreement to the terms of use and online privacy policy